International Project Management Day: Emotional Intelligence - Critical Competence for Successful Project Leadership
Registration has ended as of Wednesday, November 1 at 5:00 pm ET. 
This presentation, Emotional Intelligence: Critical Competence for Successful Project Leadership, will take the participants through the criticality of EI to lead projects successfully and effectively. It begins with a reflection on self and builds the foundation for strong EI. Once there is self-mastery, the journey continues to the focus on others. It is here that honest perspectives and some tough realizations must occur. With tips and techniques to enhance and improve the EI with others, the participants are ready to move on to keys to EI and project leadership. The next step in the EI journey is only taken after self-mastery and excellence with others is comprehensive. The focus on EI for successful leadership is a journey that will continue. Each step of the journey will be defined, examples given, and techniques to enhance and improve the mastery of that step.
AGENDA
5:30 – 6:15 PM - Virtual Networking and social time and meal
6:15 – 6:30 PM - Opening Remarks, PMI NEO Updates, Speaker Introduction
6:30 – 7:45 PM - Session with speaker - Beth Oullette (1.5 Power Skills PDU)
7:45 – 8:00 PM - Q&A
8:00 – 8:15 PM - Session wrap up and closing remarks
ABOUT THE SPEAKER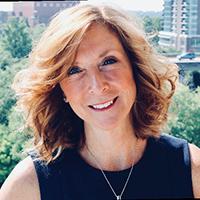 Beth Ouellette, PMI Fellow and CEO of The Ouellette Group, works with global teams to implement value-added Disciplined-Agile approach to Portfolio, Program and Project Management best practices. Her unique blend of business management and technology skills has successfully enabled executive teams with organizational strategy, alignment of programs to that strategy, and outlining processes to best implement those strategies. Whether the methodology is traditional, agile or hybrid, the best approach and practices which fit the organizational needs will be discovered, outlined, and implemented with Beth's guidance and a Disciplined Agile Way of Working. She has experience in partnering with senior executives across the globe, she has hands-on experience in the following industries: Banking, Finance, Insurance, Retail, Utility, Telecom, Manufacturing, small business, Academia, US Government Agencies, and the entertainment/luxury industry.
Her presentations and writings are global and varied. She presented since 2009 at PMI's Leadership Institute Meeting, PMI National Congress, PMI Chapter Events, multiple Project Zone conferences, Program Management Forum, PMINJ Seminar@Sea, Delivering Project Excellence, CIO Forum, Enterprise Application Strategy Conference, IT World Congress, Women in Technology, and Women in Computing. She has been published in Brazil, Canada, India and USA.
Beth is an active volunteer (PMI award reviewer and PMINYC NEC Chair); with PMI since 2006 she contributes to the PM Community globally. She received the prestigious PMI Fellow in October 2018. She also received the "Component Leadership" of the Year Award in 2010 for work with the PMINYC chapter and the "Distinguished Contributor Award of the Year" in 2009 for the Content Integration Analyst work on the PMI Standards Teams. She has served on the DAMA NYC Board of Directors in varying capacities since 1999.
She is an adjunct professor at the CUNY Graduate Program and School of Professional Studies where she provided the content and partnered in the initiative to create a Project Management Certificate Program. She led the creation of this multi-course program which was approved by the NY State DoE in 2008 and is an ongoing program for the CUNY SPS and Graduate Center Programs since then.
Beth holds a Finance MBA from NYU's Stern School, a BA in Education from Eastern Michigan University, and an AA in Computer Programming from Greenville Technical College. Her professional certifications include: PMO. PGMP, PBA, CDA, DALSM, CDAI, CDAC. She's the 36th person to achieve the Disciplined Agile Coach DAC) designation and the only DAC and PMI Fellow in the world.
It is not possible to register for this event