<< Back
October 26 2021 at 11:00PM
PMINEO PMP Exam Study Group 9/8/15-11/24/15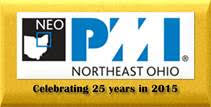 PMINEO PMP Exam Study Group September 2015 - Mayfield Village
Group meets: Every Tuesday evening from 5:30 pm to 8:30 pm for 12 weeks starting on September 8, 2015.
Co-Sponsor: Progressive Insurance - Bob Gombeda - is the primary contact.
If you have any questions, please contact Bob Gombeda at work at 440-395-8958, by cell at 330-285-5974, or email pmpstudy@pmineo.org.
Where: Progressive Insurance - Fairways Building
300 North Commons Blvd. Mayfield Village, OH 44143 Click here for map and directions.
Agenda: Each week will focus on a knowledge area. Students are expected to have reviewed related sections of the text and will generate discussions.
Participants interested in obtaining the CAPM or PMP are encouraged to attend. Materials for this session will align to the 5th edition PMBOK. Also, if you are an existing PMP and want to brush up on the latest edition PMBOK and earn PDU's by learning and training others, please consider registering too.
Certification Details: Please read the handbooks for the CAPM and PMP to learn more about these certifications.
Course Registration Fee: The Study Group is offered free of charge to all attendees.
Study Guide Cost:  The study guide used in class is the Crosswinds PMP Exam Success Series: Bootcamp Maual.  Attendees will be charged for the cost of the manual at the time of registration as follows.

$55 PMINEO Chapter Members
$55 Progressive Employees
$75 Non-members
Past attendees are not required to purchase a guide
PMINEO chapter members must enter their numeric PMI Member ID when registering. The PMI Member ID is optional otherwise. To be a PMINEO chapter member, you must have added the chapter to your PMI membership. Visit PMI and log in to see your membership status and your Member ID. The chapter uses Paypal for payment processing. Having an existing Paypal account speeds the checkout process. Click on the "Return to Northeast Ohio Chapter of PMI" link at the end of the Paypal to complete the transaction. Print a receipt or make note of your Paypal transaction number for your records.
Registration: Use the "Register Now!" link below.  **Be sure to log in to the website Member Login (SSO) before registering in order to use our registration self-cancellation feature.**
Instructions to self-cancel registrations are available in our FAQ How do I cancel my registration? available here and on our website, www.pmineo.org, under the About Us tab > FAQ > How do I cancel my event registration?
Detail schedule (subject to change):
| Session | Chapter | Topic | Date |
| --- | --- | --- | --- |
| 1 |   | Overview | 9/8 |
| 2 | 3 | Framework | 9/15 |
| 3 | 4 | Integration | 9/22 |
| 4 | 5 | Scope | 9/29 |
| 5 | 6 | Time | 10/6 |
| 6 | 6 & 7 | Time & Cost | 10/13 |
| 7 | 7 | Cost | 10/20 |
| 8 | 8 | Quality | 10/27 |
| 9 | 9 & 10 | Human Resource & Communications | 11/3 |
| 10 | 11 | Risk | 11/10 |
| 11 | 12 | Procurement | 11/17 |
| 12 | 13 | Professional & Social Responsibility | 11/24 |